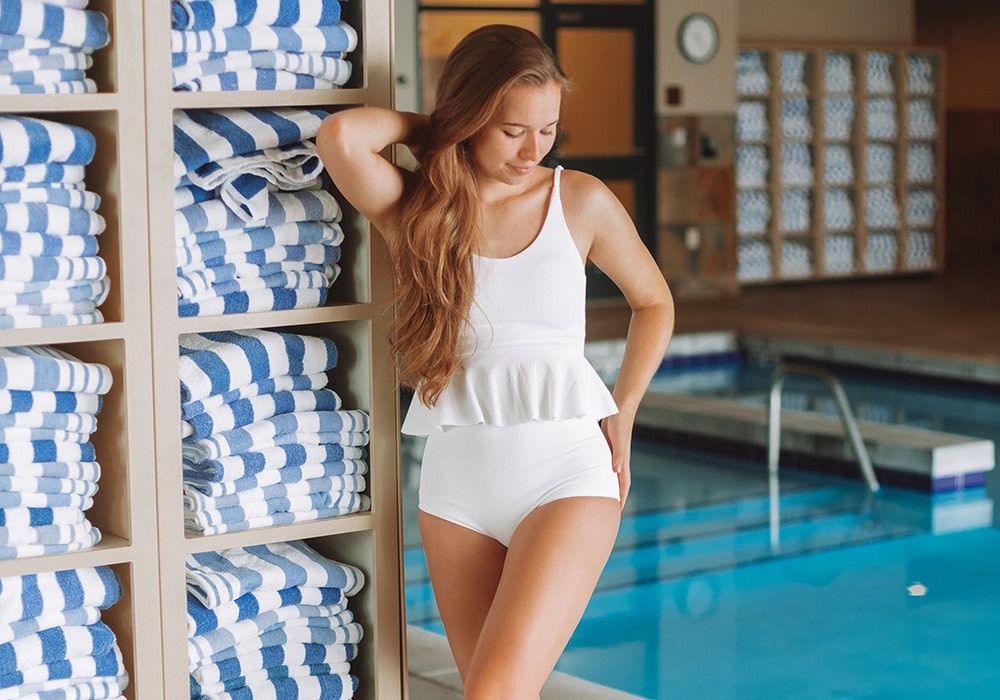 Every fashionable woman's wardrobe should have a few staples. It should have a great pair of jeans, a well-fitting layering tank top, a statement blazer, and of course, a little black dress (LBD). The perfect LBD can be used for multiple occasions: a date night at a nice restaurant, a holiday party, a bachelorette party, a night at the theater, or any other occasion for which you want to feel effortlessly put together.
Just like the LBD is a staple for any woman who likes to go out in the evenings in style, a white tankini is a wardrobe staple for women who like to look great by the pool, at the beach, or on a cruise. A classically styled white tankini never goes out of fashion, and a high-quality white tankini will last many years without getting stretched out or otherwise damaged by too many washes.
When it comes to white tankinis, there are many on the market to choose from, but we happen to love the Snow on the Beach white tankini from the swimsuit company "by Alanna." By Alanna makes top-quality, flattering, and comfortable swimsuits for women of just about any shape and size, and their white tankini is no exception. It really is the LBD of swimsuits!
The white tankini top and high-waisted white swim bottoms are sold separately, so you can get a great fit, no matter your proportions. Each piece is well priced, especially considering the quality of the swimsuit.
The top has a flattering neckline, with a gentle scoop neck. The adjustable straps allow you to position the top just where you want it, and the peplum at the bottom gives the top a flirtatious quality, while also camouflaging any imperfections in your midsection. The bottoms are cut high in the waist and are full coverage in the back, making them extremely comfortable. The high-quality, ribbed fabric helps hold you in in all the right places. You can even pair the top with a cute pair of shorts for a great casual look that can take you from a day by the water to an afternoon in town.
With the white tankini from by Alanna, you'll look great in and out of the water! Your Instagram photos will pop, and you'll feel effortlessly chic no matter what activity you're doing. You'll also get the satisfaction of knowing that your purchase supports a small, woman-owned business, whose products are made in the USA.
When you visit the By Alanna website to learn more about their famous white tankini, make sure to take a look at their other great swimsuits, including several great one-pieces, as well as multiple two-pieces with vibrant patterns and flattering designs.